Integrate Universign
electronic signature API
to your operating
processes
The best user experience comes with Universign API. Our seal, timestamping and electronic signature API can be directly embedded into your existing business software. It can also be integrated into your applications and websites.
It's your choice, it's your call.
Universign seal, timestamping and electronic signature API
Trust services are becoming essential to developing applications or business software. You can easily integrate Universign API into your business software.
CRM : integrate our electronic signature API and get your quotations and commercial offers signed directly from your CRM software
ERP : seal and timestamp your transactions to guarantee their integrity and to automate your workflow
Contract Management : manage, sign and centralise all your contracts within one single platform
HRIS : sign job offers and employment contracts remotely or dematerialise the processing of expense reports with our electronic seal
Our trusted services have already been connected, and integrated into many different software.
Discover our partners
Universign API: fast and easy to integrate
Universign web services are easy to use, powerful and fully documented. You can rapidly integrate our trust services into all your applications, websites and business software, with total transparency.
Our API has been designed to meet the needs of developers as they need to save time and increase practicality. As a result, most projects using Universign API reduce the production (cost in man-days).
Discover how your team can implement the Universign API by requesting our documentation.
A simple integration process of our seal, timestamping and electronic signature API
Since its creation, our solution has been designed for SaaS use. This means that we manage all clients on the same platform, with the same application code.
The Universign solution is highly flexible. We wanted to meet the needs of all our clients. Each of them can dynamically and independently configure the service's behaviour. Integrating our electronic signature API is a simple process. Follow 3 steps and 2 main flows: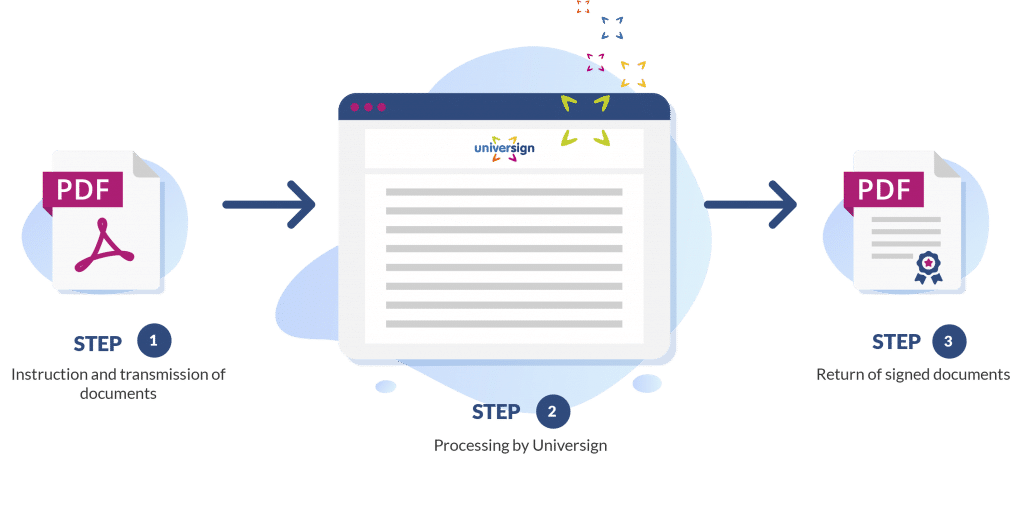 STEP 1 : Creation of a signature request with the documents and the signatories identification details.
STEP 2 : Document signature, entirely managed by Universign on a multi-device and web-responsive site page.
STEP 3 : Delivery and/or collection of signed documents.
---
We provide a fully documented API to developers, to let you test and implement our trust services.
Thanks to our professional services, we can help you construct your workflows, so that you can rapidly and easily integrate electronic signature, seal and timestamp features into your existing applications.
Make the right choice: a powerful API which brings together security and simplicity of use
Universign Saas solution is supported by a secure IT infrastructure, designed to work with all IT environments. Our data centers in France guarantee a continuity of service and an optimal availability rate of + 99,9% per year.
Universign also gets ANSSI issued security certificates, which allow users to easily identify the most reliable IT solutions.
Guarantee the regulatory compliance of your digital transactions
Universign, an eIDAS Trust Service Provider, offers easy to use trusted services which comply with European regulations. The Universign electronic signature is legally recognised and complies with the European regulation (eIDAS). It guarantees the complete security and traceability of your dematerialised transactions.
We're proud of our clients
Contact us
Join the thousands of organisations already using Universign